Finder of the Lost
Regular price
Sale price
$39.99
Unit price
per
Sale
Sold out
Share
This was one of the first images I wanted to create. For much of my life I was filled with a hidden shame. I related to the lost sheep more than I related to the 99 good sheep. I also know that He came and found me–another testament to His integrity and truth.
"For the Son of man is come to seek and to save that which was lost." - Luke 19:10
"To all of you who think you are lost or without hope,
or who think you have done too much
that was too wrong for too long,
to every one of you who worry that you are stranded
somewhere on the wintry plains of life,
Hear the call of Jehovah's unrelenting refrain,
"My hand is stretched out still." Isiah 5:25
"I shall lengthen out mine arm unto them,"
"and even if they deny me; nevertheless, I will be merciful unto them,
… if they will repent and come unto me; for mine arm is lengthened
out all the day long, saith the Lord God of Hosts." 2 Nephi 28:32
His is the pure love of Christ, the charity that never faileth,
that compassion which endures
even when all other strength disappears."
-Elder Jeffery R. Holland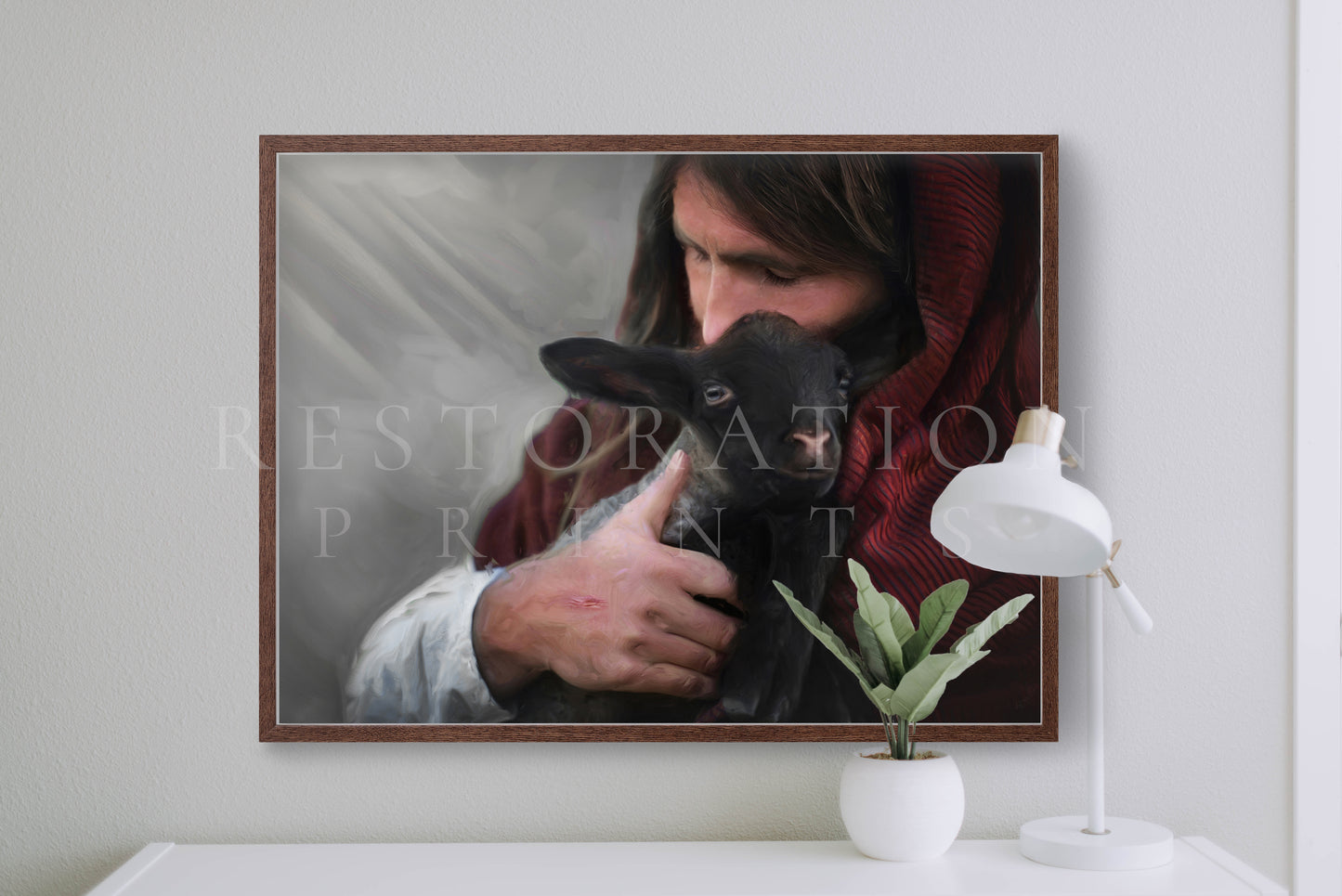 How to Print

Questions about printing? Look no further.

Learn More

Sizing

Need a specific size? Go ahead and checkout and then contact me with your requested size.
FAQs
What do I get with my purchase?

Once you checkout, you will receive an email with a digital file that you can then take/send to a printer. That file should be good to print up to 16inch x 20inch in size.

If you plan on printing something larger than 16inch x 20inch, go ahead and checkout and then contact me with your requested size and we'll get back to you within 2 business days. (Important: Be sure to check with your printer first to confirm the exact size you want/need.)

For reference, I have helped some customers scale these prints up to 40inch x 55inch or more.
I just bought a print. Now what?

You should get an email with a download link to the piece you just bought. You are welcome to use that digitally, and if you want to get it printed, you can find all that information over here!
Can I request a specific size?

Yes! Go ahead and buy the piece you want and then contact me with your requested size.
I like your frames. Where are they from?

The frames and furniture you see in the images are renderings, which means they are just digital props to help display my art. I recommend looking at Hobby Lobby as I've had a good experience with them and their prices are reasonable. They can also help you with other ways to display your prints (such as dry mounting on foamcore).